Music publishers
the big music publishers and how they work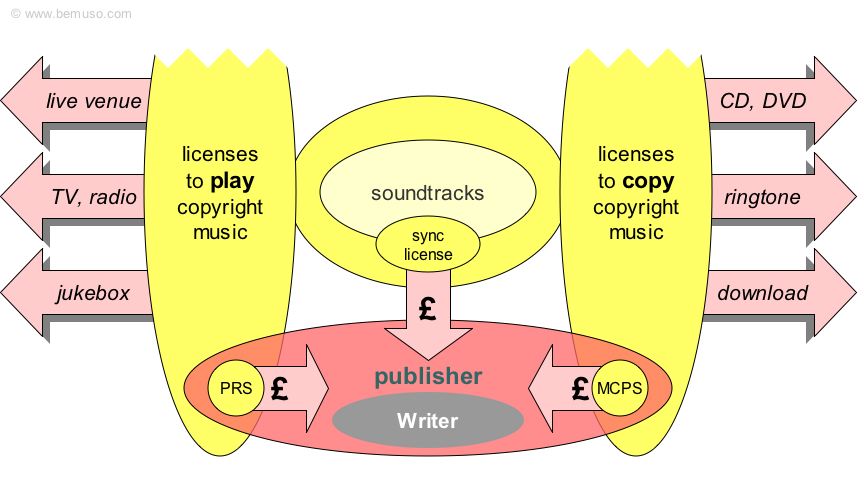 From the time of the Gutenberg press in the 15th Century through the development of music copyright in the 17th Century to the arrival of the recording industry in the 20th Century publishers became increasingly central to mainstream music. With printed sheet music, writers had access to a new mass market audience beyond live performance. Following sheet music, publishers' earnings went on to include royalties from publishing copyrights used in theatres and piano-rolls. As the record industry began to take off music publishing was ready to go beyond physical media into radio. Sales of popular sheet music for home piano players were the basis of the first music charts and provided good income beyond World War Two. Publishers supplied A&R men (Artists and Repertoire) working for record companies with repertoire to suit recording artists. However, record deals remained miserly and artists increasingly wrote their own songs to earn additional income. These days music publishers still dominate the music industry and remain a useful service supplier to composers, including DIY writers without third party labels, if only for collecting royalties.
The main role of a modern publisher is collecting royalties from national royalty systems across the world on behalf of writers (and themselves). Publishing today normally means the release of a recording rather than sheet music, and music publishers do little traditional paper publishing.
Publishers have been largely unaffected by the migration of music to the Internet. They have lost some mechanical income as CD album sales have dropped but radio and Internet broadcasting remains strong alongside online sales. But PRS licensing for new broadcasters such as YouTube has been slow to catch up with changing audiences.
Publishing consists of two main activities:
collecting license fees from commercial venues and broadcasters, foreign royalty organisations and from sync licenses, sheet music etc.;
pitching material to potential users to maximise earnings for the publisher and writer(s).
The first is generally called administration and the second is a full publishing service.
Publishers' earnings are described in Music royalties and licenses and Music royalty collection societies.
Publishing services are discussed in Songwriting.
Music publishers are not generally called Majors and indies although all the Major record labels have big music publishing sister companies. EMI and WMG own the largest publishing catalogues.
The copyright numbers given for the big publishers are fairly conservative. Sony is the odd one out in this group—it's a loose collection of catalogues which is no bigger than the largest independent publishers.
A note about music publishing mergers and acquisitions
The big publishers don't stay the same for long. Here are some recent developments:
Citigroup sold EMI publishing (bought from Terra Firma) to a group led by Sony/ATV in 2011—the US FTC is considering the sale and papers were submitted to the EU in February 2012.
Universal acquired BMG Music Publishing in 2006 (following a 2007 EU review Universal agreed to offload the EU publishing of Zomba, Rondor and 19 Entertainment).
Sony acquired a larger share of the Michael Jackson catalogues in a re-financing deal in 2006.
The other main category of music publishing is library, production and film music. Here's a list of UK library music publishers from the Regional Film and Video site.
Music industry trade organisations and other professional bodies represent and work for music publishers.
About 260 corporate members representing 4,000 catalogues make up the membership of the Music Publishers Association, MPA (founded 1881).
The main UK publishing organisation is the MPA which sponsors publishing royalty collectors MCPS and PRS who work together as PRS for Music. The MPA is represented in Europe by GESAC and globally by CISAC.
The MPA and PRS supported the formation of BASCA.
UK Music—the replacement for British Music Rights (BMR)—now represents many of these organisations alongside record label bodies and the MMF.