CD costs and prices
mail order, cost breakdown and calculations
Here's a rough guide to CD mail order costs and working them out.
Duplication starts at less than £1 a CD depending on:
printing, booklets, inlays;
cases—gatefold Digipaks are expensive;
volume—high volume is cheaper;
urgency—more urgent is more expensive.
The detailed example on this page allows £1.50 which is probably the most you'd pay for a low volume, full colour job. If you're pressing a high volume (thousands) and it's not urgent you could pay half that. There's more about duplication in CD release.
I weighed the different packing examples and got them priced for postage in 2010. This is just an illustration, you may choose other options. I allow for a light case by First Class post (80p post and packing).
Digipaks and other light cases are more expensive to buy than standard CD jewel cases but cheaper to post, although wallet sleeves are cheapest all round. You can also get mailers cheaper than this (the cheapest I found is about 6p CDs, post and packing).
Part
Note
Cost
Total
CD duplication
(worst case)
£1.50p
£1.69
CD mailer
MailLite kraft bubble pack
18p
Compliment slip
printed
1p
Postage
UK post (2nd class)
up to 100g, 25mm thick
47p
£2.16
UK post (1st class)
up to 100g, 25mm thick
61p
£2.30
International surface mail
small packet up to 100g
91p
£2.60
The standard jewel case is the cheapest rigid case but the most expensive to post (again, you could use cheaper mailers).
Part
Note
Cost
Total
CD duplication
(worst case)
£1.50p
£1.93
CD mailer
jewel case card box
42p
Compliment slip
printed
1p
Postage
UK post (2nd class)
up to 250g, 25mm thick
76p
£2.69
UK post (1st class)
up to 250g, 25mm thick
90p
£2.83
International surface mail
small packet up to 150g
£1.22
£3.15
There's quite a range of packaging, mail order and payment methods. You can find a lot more about packaging options online. Try a small sample to start with, you can always change your mind when you see how it works. You only need to commit to volume for the final pressed CDs.
The Royal Mail web site has details of other postage prices including Air Mail.
Here are some links to more information about CDs, postage and packing choices.
What
Cost
Note
Link
CD duplication
cost varies
Here are some useful sites for CD options and prices.
www.discwizards.com
www.amstore.co.uk
www.littlebazaar.co.uk
Self-sealing corrugated paper
less than 10p per CD
I have had CDs mailed in this and you can get a crimper to make neat edges.
NoviaWrap
Bubble pack envelope
down to 7p per CD in bulk
I have used Sealed Air MailLite Kraft CD mailers (bubble-wrap liner and self-sealing strip). They do a range of sizes and you need about 150mm x 210mm if you can't get the CD size.
www.zignig.com (UK)
svp.co.uk
Cardboard CD mailer
about 25p per CD
Auctionpax has a wide range of stationery gear including Jiffy bags and fitted cardboard CD mailers.
www.auctionpax.co.uk
To decide an all-in price you could add up the costs and guess a margin. This example should help you see the effect of changing various slices of the pie.
First list the costs you think you might need to cover. Whether you allow for these examples or not depends who's involved and the expected volume of sales.
Some costs you need to cover in a CD price
CD duplication
See cost details
Artist income
The equivalent of the artist's points. May be subject to Income Tax
Label income
The equivalent of label earnings. May be subject to Income or Company Tax
One-off costs
Computers, software, instruments, project recording costs, online payment setup, etc.
Running costs
Web site (cost details), annual payment gateway fee, consumables, accountant, MU fees, etc.
MCPS
8.5% of wholesale price (PPD) or 6.5% of retail price before VAT
Writer income
Covered by MCPS if the writer is separate—may be subject to Income Tax
Publisher income
Covered by MCPS if the publisher is separate—may be subject to Income or Company Tax
VAT
17.5% added to the retail price (UK sales tax)
Mail order
Post and packing, see cost details
Credit card commission
A percentage of the retail price after VAT, for using an online card system
Some one-off costs and running costs might be paid out of writer, artist, label or publisher income. This example will assume the artist is also the performer—otherwise allow for session payments or points. When you've got rough cost headings you can work out a price.
We'll make some assumptions to work out a price for direct (mail order) sales:
the cost for writing and publishing is 6.5% before VAT (whether through MCPS or not);
the artist deal is the same as Sting, about 25% of gross;
the label makes the same as the artist, 25%;
one-off and running costs are 20% (this may need refinement later on);
promotional CDs and other publicity costs are covered in the running costs;
there is no additional retail mark-up to the selling price (you are the retailer);
CD, post and packing totals £2.30 (see above).
These are just assumptions for this example. You might want to do some things differently.
Cost breakdown 1
Note
Tax
£1.50
CD
pressing, printing, case, inlay, booklet
claimable against tax
25%
artist
income
taxable income
25%
label
income
taxable income
20%
other costs
towards one-off and running costs
may be claimable against tax
6.5%
MCPS
if you're the writer and publisher you keep this
taxable income if you keep it
A simple way (but not the only way) to work out CD costs and MCPS would be:
| | | | |
| --- | --- | --- | --- |
| Step 1 | add up the money amounts | £1.50 | £1.50 |
| Step 2 | add up the percentage amounts | 25 + 25 + 20 + 6.5 | 76.5% |
| Step 3 | find £1.50 as a percentage | 100% − 76.5% | 23.5% |
| Step 4 | work out the CD total | £1.50 x 100 / 23.5 | £6.38 |
You can use the same basic idea to work out known other money amounts and percentages. As you can see the numbers you choose can make a big difference the result and you can tweak them to get a price that feels right. The benefit of using headings like these is you'll be able to check how much of your total is allocated to each part.
This example assumes 20% general one-off and running costs, and if you don't have evidence for that it'll become taxable as income too.
Cost breakdown 2
Note
Tax
17.5%
VAT
if your annual turnover is over £66,000
offset against VAT you pay out
| | | | |
| --- | --- | --- | --- |
| Step 5 | add 17.5% to your overall CD costs | £6.38 + (£6.38 x 0.175) | £7.50 |
The price you charge is up to you but be sure tax is covered. At this price you'd need to pay VAT on about 10,000 CD sales a year, so keep 17.5% safe unless you're certain you won't sell that many.
The last stage in this example is to add the online credit card and posting costs.
Cost breakdown 3
Note
Tax
£0.80
post & packing
mailer, stamp, enclosures (see above)
claimable against tax
4.5%
credit card
using WorldPay commission as an example
claimable against tax (Tax relief)
| | | | |
| --- | --- | --- | --- |
| Step 6 | add post & packing | £7.50 + £0.80 | £8.30 |
| Step 7 | add credit card commission | £8.30 + (£8.30 x 0.045) | £8.67 |
You will already have paid or accounted for VAT on your post and packing materials. The credit card commission will be charged on the whole amount you collect at the point of sale.
Here's a summary of this DIY mail order example with all the amounts worked out:
Heading
Rate
Cost
Note
Record label
Manufacture
—
£1.50
CD and packaging
Artist royalty
25%
£1.59
covers some other expenses
Label share
25%
£1.59
label may be separate
Costs
20%
£1.28
includes one-offs, running costs
Distribution
Distributor
—
—
no Distributor
Publishing
MCPS
6.5%
£0.41
mechanical royalty (6.5% before VAT)
CD sub-total
£6.38
 
Sales tax
VAT
17.5%
£1.12
on the price before VAT
CD after VAT
£7.50
 
Retail
Post and packing
—
£0.80
see postage examples above
Credit card
4.5%
£0.37
on the amount charged to the customer
Total cost
£8.67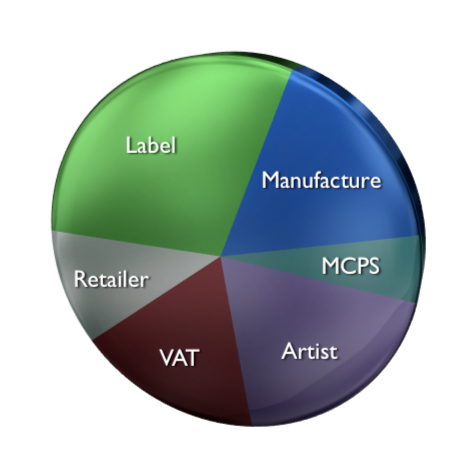 Here's how to add and remove VAT, and how to work out what the VAT amount is when it's already included in the price.
Converting costs before and after VAT
A.
To work out VAT
add 17.5%
B.
To remove VAT
multiply by 100 / 117.5
C.
To work out VAT after it's been added
multiply by 17.5 / 117.5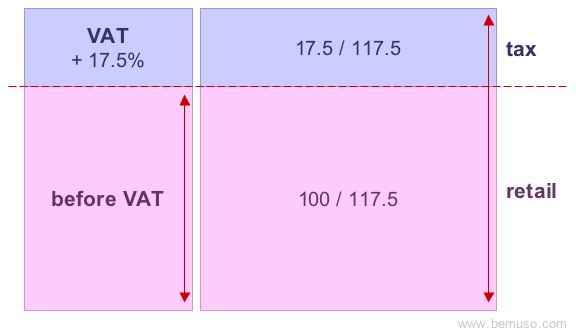 Use enough decimal places for the precision you need—truncating fractions of pennies is OK (unless you multiply those amounts by a very big number later on).
By way of comparison a £15 high street CD breaks down rather differently. There isn't a standard or average breakdown—a lot depends on the artist's deal with the label and the number of records sold.
Heading
Cost
Note
Record label
Manufacture
£0.50
CD and packaging
Artist royalty
£0.50
 
Label share
£3.12
 
Distribution
Distributor
£3.75
 
Publishing
MCPS
£0.73
mechanical royalty (8.5% of PPD)
CD sub-total (PPD)
£8.60
 
Retail
Retailer
£4.17
 
VAT
£2.23
sales tax
Total
£15.00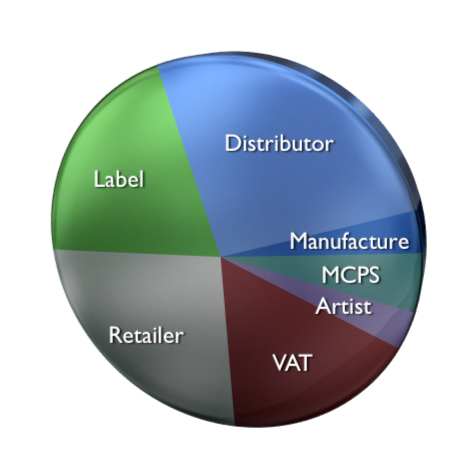 Distribution costs vary from 25%-30% down to 12% for a hit, or as low as 5% for a big Major label artist.