Music royalties and licenses
blanket and one-off music licenses
The point of royalties is simply to pay the right people for using their music—but it's easier said than done. To understand it you need to separate:
| | | | | | | | | | | | | | |
| --- | --- | --- | --- | --- | --- | --- | --- | --- | --- | --- | --- | --- | --- |
| 1 | writers | 2 | artists | 3 | performers | 4 | songs | 5 | recordings | 6, 7, 8 | performances | 9 | different uses |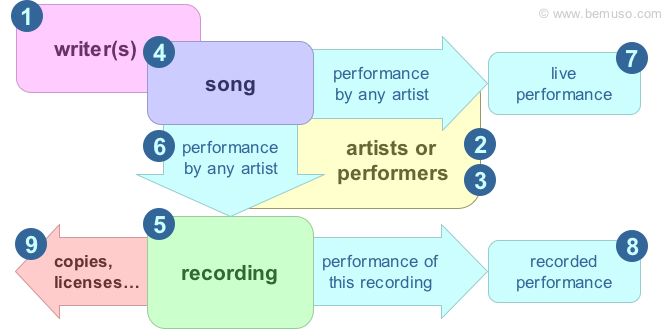 That's how the separate aspects relate to each other for a typical recording and here's a range of examples based on some of the different uses of Hallelujah by Leonard Cohen from the album Various Positions, © Bad Monk Publishing (BMI) 1985.
Music royalties and earnings, with examples
Who earns royalties
Who they are
Examples
1
Writers
The composer and lyricist
Leonard Cohen
2
Artists
The person or group signed to a label
Alexandra Burke (Sony BMG X Factor single)
3
Performers
The musicians and vocalists
k d lang's cover of Hallelujah
What earns royalties
What it is
Examples
4
Song
The words and music (not beats or arrangements)
Hallelujah
5
Recording
A sound recording of a song
Alexandra Burke Hallelujah single
6
Recorded performance
A recorded performance by a musician
Jeff Buckley and his band* Hallelujah on Grace
Performances (publishing)
What they are
Examples
7
Performance of a song live
A song performed live (by any artist)
Alexandra Burke Hallelujah on TV
8
Performance of a recorded song
A song performed using a recording
Leonard Cohen Hallelujah played on a jukebox
Performances (phonographic)
What they are
Example
9
Use of a sound recording
A sound recording exploitation license
A documentary soundtrack using Hallelujah
Non-royalty income
Example
—
Live appearances
Artist performance
X Factor Live appearance, Wembley Arena
Alexandra Burke (artist), Leonard Cohen (writer), Sony BMG (recording owners), Bad Monk Sony/ATV (publishing owners) and Jeff Buckley, k d lang, Leonard Cohen and others (performers) would be paid in different ways. Each role has its own way of collecting the royalties.
The payment for each rights-owner depends on what their work is used for. There are different rates for different uses (ringtone mechanicals are different to CD mechanicals for example). Some media pay and others don't.
Music rights and earnings for this example
Example
rights-owners
Example earnings
1
Leonard Cohen
Bad Monk Publishing Sony/ATV Music
Mechanicals from all CDs containing Hallelujah
2
Alexandra Burke
Alexandra Burke through Modest Management
Royalty from Sony BMG single sales
3
k d lang
k d lang and musicians
PPL from Hymns Of The 49th Parallel
4
Hallelujah (song)
Bad Monk Publishing Sony/ATV Music
PRS from Apple iTunes Store JOL
5
Hallelujah (recording)
Sony BMG
PPL from BBC Radio One
6
Hallelujah
Jeff Buckley and his band*
PPL from BBC Radio Two
7
Hallelujah
Sony/ATV Music
PRS from ITV broadcast**
8
Hallelujah on a jukebox
Sony BMG
PPL from pub venue license
9
Documentary soundtrack
Sony BMG, Sony/ATV Music
master and sync licenses
In this example the song publisher Bad Monk is adminstered by Sony/ATV and assigned to BMI in the USA for performance licensing.
* Jeff Buckley died in 1997 but his performances still earn money. His band on this recording included Gary Lucas (guitar), Mick Grondahl (bass), Matt Johnson (drums) and their earnings depend on their contract for the session.
(** Television rights are also complex. The show licensing credit reads: The X Factor is a registered trademark of FremantleMedia Ltd. and Simco Ltd. Based on the television programme 'The X Factor' devised and owned by Simco and produced by talkbackTHAMES (part of the FremantleMedia group) and SyCo TV.)
Summary for this example
These royalties
Go to
All MCPS
Leonard Cohen, Bad Monk Sony/ATV
All PRS
Leonard Cohen, Bad Monk Sony/ATV
PPL label share
Each record label (see below)
PPL performers' share
The featured artist and musicians
PPL earnings not shown would include: Leonard Cohen (Sony), Jeff Buckley (Sony Columbia) and k d lang (WMG Nonesuch). The other named performers on those tracks would also qualify for PPL royalties.
A note about the meaning of royalties
A royalty is the rights-owners' share in a transaction, there are many different kinds of royalties.

In the context of the music business it normally means a share of…
income from record label sales (e.g. downloads)
license fees charged for playing masters (PPL)
license fees charged for performing songs (PRS)
license fees charged for copying music (MCPS)
third party merchandise sales
You may also hear royalties mentioned for the use of technology patents e.g. CD media or Blu-ray players. Most commercial IP owners expect some kind of royalty income.
There may also be earnings from other licenses.
Payment for live performance is straightforward—no new rights are created. The venue pays performers or their agent directly, and the song owners are paid through the PRS venue license.
If recordings are used in a live performance the recording owner and performers are paid through the PPL venue license.
See also Collecting royalties for public performances.
A note about the meaning of performance
In the context of copyright "performing" can be any of these…
a performance of a song or composition—live, recorded or broadcast
a performance by any musician (including vocalists) live
a performance by any musician that is recorded
a performance using (playing) recorded musical material
sending ringtones to mobiles and music downloads over the web*
Musical performances are sometimes called non-dramatic performances to distinguish them from video, dancing or acting performances. (Information on dramatic performances can be found at British Actors Equity and BECTU which includes the Film Artistes' Association)

*UK adopted the European Copyright Directive (EUCD) in 2003 and the meaning of broadcast performance was broadened to cover "communicating to the public". This includes transmitting ringtones to mobiles and Internet distribution of music downloads.
Payment for recordings is more complicated. Recordings are stored performances by the original performers, and there are at least three rights-owners on every recording.
Recording rights-owners
Owner
Copyright
Writers and/or publishers of the words and music
Song
Artists or their record label
Recording
Artists and/or session musicians
Performances
Publishers and writers are paid by MCPS, PRS, and licensees. Record labels are paid by PPL, retailers and licensees. Performers are paid by the label or through PPL.
Any existing copyright or phonographic copyright can be licensed by MCPS, PRS and PPL if the owners choose.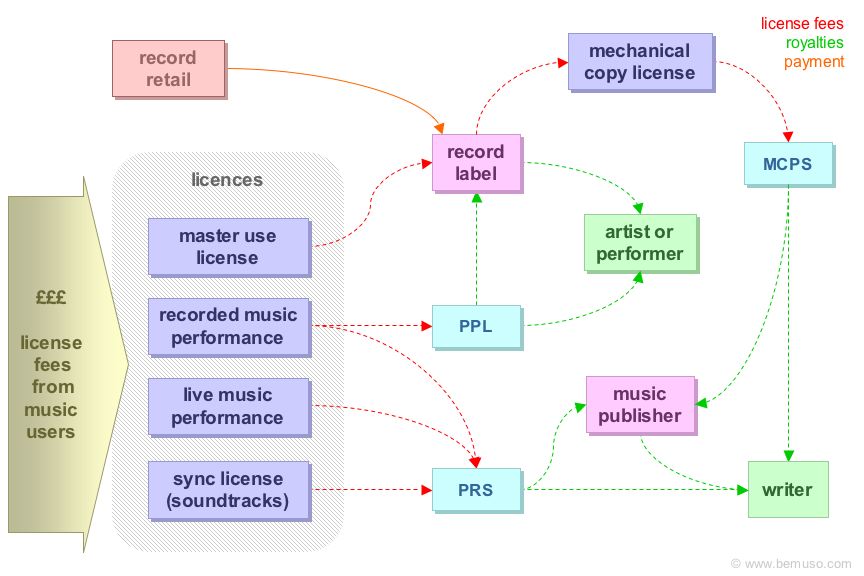 Royalties are paid to artists, writers, recording owners and performers for use of their work (this is often commercial use but not only commercial).
Royalties paid to an independent artist, performer and writer
Collected from…
Royalties for artists
Royalties for performers
Royalties for writers
Record label
The artist royalty from record label earnings e.g. record sales and licensing
A possible share in the artist royalty as wages
Song recording royalties (via MCPS and publisher)
Pubs, clubs, Internet, media…
Performance royalties via PPL
A possible share in performance royalties via PPL
Song performance royalties (via PRS and publisher)
Other PPL royalties for performances of recordings are paid to recording owners, normally labels
Publisher
None (unless the artist is also a writer)
None (unless the performer is also a writer)
Part of the publisher's share of MCPS and PRS royalties for the songs
A note about royalty payments to writers and performers
MCPS and PRS will pay 100% direct to writers without publishers (self-publishers) or 50% direct to writers who have a publisher (in this case the publisher will also pay part of their 50% to the writer).

(Opting out: MCPS allow a member to opt out particular tracks for, say, a DIY release. PRS don't allow any part of a member's repertoire to be opted out.)

PPL pays 50% to the recording owner and 50% to performers: featured performers (65%) and other performers (35%).

PPL pays royalties direct to UK featured artists and others previously paid by P@MRA or AURA.

The performers share of the phonographic royalty is only paid for commercial recordings made since 1946 and played or broadcast in public since 1 December 1996 in the UK or overseas.

Performers use a Performer Identification Number (PID) from the PPL Performer Registration Centre (PRC) to claim their royalties.

(Royalty splits are sometimes expressed as twelfths for historical reasons. 6/12 is the same as 50%.)
This is how royalties are paid from music licensees through collection societies to the rights-owners.
How different royalties are collected and distributed
Royalty
On…
Paid by…
Collected by…
Distributed to…
Mechanical
Copies of recordings:
CDs, downloads, games, ringtones, etc.
Record label, manufacturer, etc.
MCPS
Publisher and writer
Performance
(writer)
Songs performed
Commercial music users
PRS
Publisher and writer
Performance
(recording)
Records played
Commercial recording users
PPL
Recording rights-owner
(e.g. record label)
Performance
(performer)
Performances on records played
Commercial recording users
PPL
Performers
Artist
Sales of CDs, downloads, etc.
Record label
Manager
Artist
There are other licenses that earn royalties for rights-owners.
For library music MCPS runs a joint scheme which arranges licenses from the main three societies (MCPS, PRS and PPL).
For commercial music web sites MCPS-PRS Alliance offer a joint online license (JOL) to cover copying and performances for publishers. These sites also need a PPL license.
A note about the meaning of mechanicals
Although it normally means CD copies it includes…
music videos
ringtones
MIDI files
downloaded tracks
computer games
musical toys etc.
It covers any copyright audio composition that is rendered mechanically, i.e. without a new live performance.

Note: mechanicals are often confused with master rights (PPL) even by pros. Remember mechanicals are publishing.
Some common royalty exclusions
Royalty
Not paid…
PPL
Performers' share for some library music
PPL
Performers' share on music video soundtracks (VPL)
USA
Performers' share (except "digital", SoundExchange)
USA
Publishing for all cinema performance (BMI, ASCAP, SESAC)
A more comprehensive description of American royalty exclusions can be found in All You Need To Know About The Music Business by Donald Passman (7th Edition). The application of American master and publishing rights is somewhat superficial compared to the EU. For example, Bill Silva mentioned in the Lefsetz newsletter recently (2010): SoundExchange does not collect from YouTube. SoundExchange was established to administer the collection and distribution of royalties from such compulsory licenses taken by non-interactive streaming services that use satellite, cable or Internet methods of distribution. YouTube would be considered an interactive service. SoundExchange collects performing rights for the recording master (the equivalent of PPL) but in a very limited way.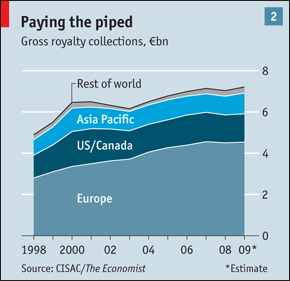 This Economist chart (October 2010) shows societies in the EU collect about four times the royalties collected in America overall. (2010 population figures: EU 500 million, USA 300 million). Note also that Asia/Pacific in this diagram consists almost entirely of Japan and Australia.
MCPS, PRS and PPL operate many different licenses. Even people who work there don't know them all. You could take a degree in publishing and still not know every license.
Blanket licenses for traditional duplication and performance are assigned to collection societies. A music user who buys a license can perform or duplicate relevant works under a standard set of limited conditions. Other music applications have separate licenses and some music users may need several.
The best place to find complete up-to-date lists of these licenses is on the collection society sites. There is a longer list of performance licenses below.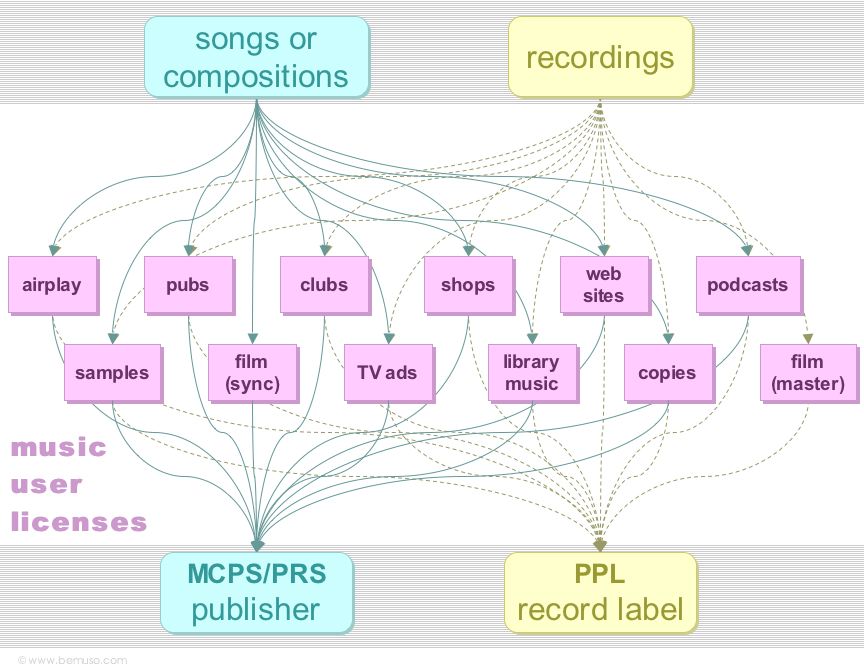 The JOL is a combined blanket mechanical and performance license for web sites distributing MCPS and PRS copyrights. This license allows the site to play music and make copies (downloads).
There is no formal PRS opt out for sites run by writers (MCPS do have a formal opt out) but PRS say they won't unreasonably charge not-for-profit or self-distribution sites. The JOL costs a minimum of £5,000 per quarter and a percentage (the intended rate is 12%) of site revenue.
If a site isn't using any MCPS or PRS copyrights they wouldn't need a JOL but they should license the music from the labels and publishers.
PPL, MCPS and PRS operate a joint blanket licensing scheme for library music.
MCPS and PRS operate a joint blanket licensing scheme for sampled music but it doesn't cover PPL, so sample users need to go back to the labels too.
Ringtone publishing is licensed by MCPS (10% of retail) and PRS (5% of retail) but a master use license is also required.
This PPL license allows you to make a DJ Database and one Back-up Database. It's a phonographic copying license not a performance license.
The DJ Database is simply a copy of one or more sound recordings in digital form which are stored solely on a single computer or hard disk unit up to 20,000 copies. The license doesn't mention DJs specifically.
Note: the Digital DJ license has now been superseded by a new joint MCPS/PPL Produb license with tariffs for DJs, exercise classes and other users.
This is a PPL license for businesses that make intermediate copies of members' copyright recordings, such as broadcasters.
There is no blank media or file player levy in the UK.
A note about the meaning of blanket license
Individual rights-owners can collect royalties from music users but it would be impractical for each of them to license every music user in the territory separately. This is why royalty collection societies exist—to act as a one-stop-shop for music users. Equally, it would be impractical for societies to agree individual licenses with each of their rights-owners and each of their licensees.

The solution is blanket licenses. Royalty collection societies offer a limited number of blanket licenses to both rights-owners and music users.

This means a rights-owner cannot normally contract PRS to collect performance income from, say, hairdressers in Venezuela, and a music user will not find a license to use only Def Leppard and Celine Dion tracks in a computer repair shop.

Blanket licenses are a compromise but there is normally a suitable version for most practical purposes. The alternative to a blanket license is a one-off license and there are some examples below.
A master use license is a phonographic copyright license. Unless a work is included in a blanket license for film soundtracks, television, advertising or sampling (among other things) it will need a one-off master use license. There is no fixed rate for master use licenses, so commercial users must negotiate a fee with the label or the recording rights-owner.
Phonographic performance royalties will normally be paid through PPL but music library tracks (unless licensed under the joint PPL, MCPS, PRS blanket license described above) don't qualify.
A sync license is a publishing license. Unless a work is included in a blanket license for film soundtracks, television or advertising (among other things) it will need a one-off sync license. There is no fixed rate for sync licenses, so commercial users must negotiate a fee with the publisher or the publishing rights-owner.
Performance royalties will also be paid through PRS when the work is played in public.
Grand Rights licenses are agreed between publishers and theatres for music written specifically for the stage. The fee is normally a percentage of the box office. Other music for the stage may be licensed through PRS.
Soundtrack rights are often bought out in full, or up to some limit on the intended use(s) or volume by commercial users. Each buy-out license is agreed between the previous rights-owners and the new owners.
Competition among project studio composers has led to a very tight market in instrumental music. Labels providing instrumental soundtracks, music libraries and catalogues now tend to buy their material outright, and their publishers may offer 50% or less.
These are the main commercial music licensees and the people who get the royalties. The left hand column shows commercial users of music, and money moves from left to right.
Here's a good PRS poster showing additional pro bodies The Music Universe (if the link is broken search for PRS Music Universe).
Sources of artist royalties (licenses and sales)
Society
Record label
Artist
Public venues where music videos are played: pubs, clubs, discos, shops, exhibitions…
VPL
Record
label
Artist
TV and radio broadcasters; web, satellite and cable operators
Video jukebox suppliers
VPL Music Mall clip sourcing, duplication and clearance services
Video and audio distributors and retailers
Licensees for samples, Internet income, recording compilations and overseas exploitation
Public venues where recorded music is played: pubs, clubs, hotels, shops, gyms, exhibitions, discos…
PPL
TV and radio broadcasters; web, satellite and cable operators
Jukebox suppliers
County and Borough Councils
 
PPL performers' share
Performer
 
Sources of writer royalties (licenses and sales)
Society
Publisher
Writer
Public venues where music is played: pubs, clubs, discos, shops, exhibitions, concert halls…
PRS
Publisher
Writer
TV and radio broadcasters; web, satellite and cable companies, Internet service providers
Streaming and downloadable TV and radio
Internet and mobile service providers and music on web sites
USA live, broadcast and synchronisation ASCAP, BMI, SESAC
EU live, broadcast and synchronisation IMRO, GEMA, SACEM, BUMA…
Rest of the world live, broadcast and synchronisation SOCAN, APRA, JASRAC…
 
PRS writer's share
Film and video companies, sync licenses
Publisher
Theatres and opera houses, Grand Rights musicals, opera or ballet
Overseas sub-publishing, sync licenses and mechanical royalties
Covermounts of CDs and DVDs on publications
Sheet music sales and hire
Film, video and advertising companies sync licenses
TV and radio broadcasters; web, satellite and cable companies
MCPS
Audio and video jukebox suppliers
Telephone services supplying music-based services
Manufacturers of piano rolls, musical novelties, computer games and ringtones
Users of library and background music
Video companies, DVD producers
Record companies
Overseas mechanical income
 
MCPS writer's share
These are some of the blanket licenses granted by PPL and PRS to users of the copyright performances they administer.
PPL licenses for businesses playing recorded music
Academy • Aerobics Instructor • Airport • Amateur Dramatic Society • Amusement Arcade • Amusement Park • Armed Service Base • Art Gallery • Arts Centre • Bed and Breakfast • Bank/Building Society • Bar • Barber • Barracks • Baths • Beauty Salon • Bingo Hall • Boats and Ships • Boutique • Bus Station • Buses • Cafe • Campus • Canteen • Caravan Park • Carvery • Casino • Cinema • Circus • Clinic • Club • Coaches • College • Community Association • Community Centre • Concert Venue • Country Club • Dance Academy • Dance Centre • Dance Club • Dance Hall • Dance Studio • Dance Teachers • Dentist • Department Store • Depot • Diner • Disco • DJ • Doctor • Exhibition • Factory • Festival • Fire/Police Station • Fitness Centre • Folk Dance Clubs • Football Club • Gallery • Greyhound Track • Guesthouse • Gym • Hairdresser • Hall for Hire • Harbour Docks • Health Club • Holiday Centre • Holiday Homes • Holiday Park • Hospital • Hotel • Ice Skating Rink • Institute • Institute • Instructor • Keep Fit Instructor • Laser Space Game • Leisure Centre • Leisure Club • Library • Lido • Live Music Venue • Lodge • Lounge • Mall • Manicurist • Members' Club • Mobile DJ • Motel • Motor Race Track • Museum • Naafi • Nail Studio • Nightclub • Nursing Home • Office • Offshore Gas Rig • Offshore Oil Rig • Old Peoples Home • Operatic Society • Organiser • Penny Arcade • Picture House • Police/Fire Station • Political Club • Port • Production Company • Promoter • Public House • Railway Station • Residential Hotel • Resort • Restaurant • Retirement Home • Roller Skating Rink • Rugby Club • Salon • School • Shop • Shopping Centre • Social Club • Spa • Speedway Track • Sports Centre • Sports Club • Sports Ground • Sports Hall • Sports Stadium • Stadium • Surgery • Swimming Pool • Tanning/Solarium • Tea Rooms • Ten Pin Bowling Centre • Theatre • Theme Park • Trade Show • Train Station • University • Village Hall • Warehouse • Wine Bar • Working Mens Club • Youth Centre • Youth Club
PPL also licenses broadcasters and suppliers of music to businesses.
PRS licenses for businesses playing music
Premium Telephone Lines • Cinemas • Pubs and Bars • Hotels and Guesthouses • Shops • Restaurants and Cafés • Offices and Factories • Leisure, Sport and Fitness • Hair and Beauty • Health practices • Clubs • Churches • Local Authorities • Transport • Educational establishments • Music On Hold